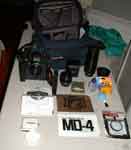 This was my beloved camera for many years. It's actually my second Nikon; the first got stolen out of my car. I'd prefer to sell the whole rig in one giant unit, rather than piecemeal, and I've priced it that way.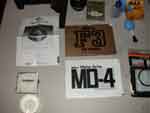 Prices
Entire Nikon Package: SOLD
A la carte pricing:
Camera body, motor drive, 50mm lens, case and accessories: SOLD
Tamron zoom lens: SOLD
Tamron wide-angle lens: SOLD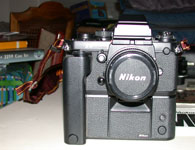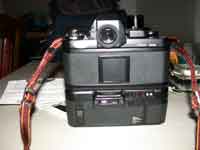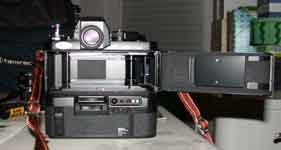 This is a Nikon F3 High-Eyepoint camera with MD-4 motor Drive. It's in pristine condition; handled with extreme care and stored indoors when not in use. It comes with a Nikkor 50mm lens. This photography package include everything you see in the photo on the left, and detailed in the other pictures (click a picture to see a larger view). I still have all the manuals for the camera, motor drive and lenses.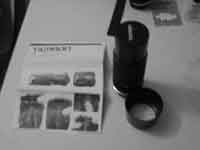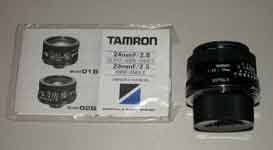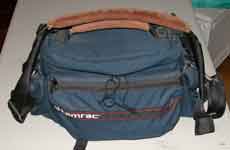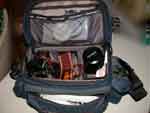 Complete list of accessories:
Nikon F4 camera body (with manual)
Nikon MD-4 Motor Drive (with manual)
After market sports strap for camera
Tamrak nylon camera bag (3 outer pouches, 4 adjustable interior dividers, mesh pouch inside lid, suede handle, shoulder strap, fanny-pack strap [not shown])
Tamron 80-200mm zoom lens (with sun shade) (with data sheet/booklet)
Tamron 28mm wide angle lens with leatherette case (with data sheet/booklet)
Polarizing filter for telephoto lens
Sky 1-A filters for all lenses
UV/Haze filter
1 roll of Kodak Max 200 ASA film (expired)
Lens cleaner
Lens brush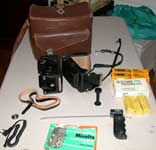 My Dad bought this camera in 1964 and was the family camera for a number of years. I don't know what it replaced (because there were plenty of pictures taken before 1964), but I started using it in high school in the early 1970's, and I used it through college and a bit beyond that. I loved having a large-format camera, but I was seduced by the single-lens reflex cameras and after I got my first Nikon, this Minolta was pretty much relegated to the closet. Now, after 41 years, these have become vaguely collectable, and I'm hoping some camera collector out there will want to add this camera and its accessories to their collection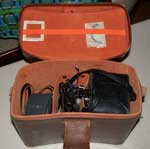 SOLD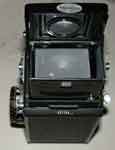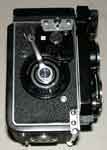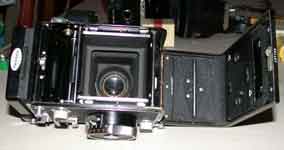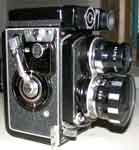 This is a Minolta Autocord Cds-III twin-lens camera with case and many accessories. The camera body and lenses are in excellent condition; there appears to be a very small bit of corrosion on the camera back interior hinge (you can see it in the large view of the photo - and I didn't notice it until I saw the extreme blow-up version of the picture of the open camera). This model can accomodate 120/124mm film in rolls of 12 or 24 exposures. The viewfinder has a magnifying glass that pops up for precise focusing. The view lens is missing a cover. Lens covers are easily available on ebay and elsewhere (Rolliflex covers will fit this camera)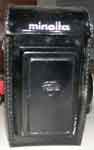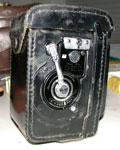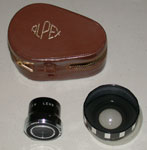 The leather camera case is in very good condition. There may be a problem with the winder; sometimes it "sticks" and will not advance the film completely, which can result in a partial double-exposure (this happens intermittently). The built-in light meter is inoperable. However, the battery compartment for it is clean and clear of corrosion. The Leather camera and accessory case is usable, but the shoulder strap is missing, and it's starting to show its age.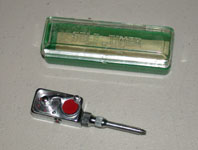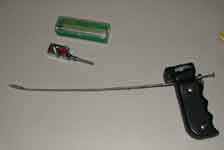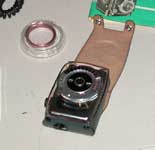 There are some very interesting accessories with this camera; these may also work with other twin-lens cameras of the day, I don't know. Included with this camera are:
The original manual for the camera (the cover is a little beat up, but otherwise complete)
Leather camera case (original)
Tripod mounting screw for camera
Pistol grip for camera
Self-Timer (a way cool mechanical device - delays up to 2 minutes)
Rollei Close-Up Lens kit #2 closeup lens (and instructions)
Alpex Wide-Angle Lenses and case (this is VERY rare - I have not seen anything like it on ebay). There are 2 lenses - 1 for the photo lens and one for the viewing lens.
Sky 1A filter for the photographic lens
Lentar Light meter (since the one on the camera is broken)
Flash cord
Extra leather neck strap for camera
11 rolls of film - This film is all expired. I don't know that I would recommend using the color film except to practice loading and unloading the camera. The Black & White film (4 rolls of Ilford FP4 and 5 rolls of Kodak Panachrome X), might be useable, if you develop it properly.
Leather camera and accessory case
No pictures yet, but here are descriptions of what's left of my father's camera collection. Dad knows how to store things - everything is in dusty but excellent condition. Unless otherwise noted, the lenses are stored in leatherette/leather cases with straps. The lens cases are in varying condition.
NOTE: I've got stacks of filters that fit these lenses, and other sizes. All different sorts, including UV and Polarizing filters. I haven't cataloged them yet, but if you are interested in a particular lens, ask about other accessories that I might have that goes with it (like universal adapters and filters).
Make me an offer on any or all of these items. I haven't researched prices yet, so I'm open to negotiations here.
Vivitar 28mm f2.8 Wide-Angle lens
Excellent condition. "Universal" mount (probably for a Nikon F). Lens cover and backing cover. Leather(ette) case in excellent condition.
Nikon Nikor 50mm f1.4 lens
Excellent condition. With Nikon HS-9 lens shade, and Hoya UV(0) filter. Star-D leather(?) lens case in excellent condition. No lens cover, but backing cover.
Vivitar Tele-Zoom 90-230mm f4.5
This is a MASSIVE lens. Built-in, retracting lens shade, lens cover and back cover. Mount for a pistol grip. (I have a pistol grip for a Nikon that I think fits this). Mounting adapter ring is not attached to the lens, but we have other lens adapters for a couple of different camera makes (or you can find one that fits your camera body). Lens is in excellent condition. Leather(ette) case included, but the top is detatched from the base of the lens case.
Vivitar 135mm f2.6 Telephoto lens
Excellent condition. Looks like a Nikon adapter on the back. Back and front lens covers and leather(ette) case in excellent condition.
---
Filters and Camera Accessories
No photos yet, but quick descriptions of some other things you can make me an offer for:
Vivitar zoom thyristor flash unit
Powerful. Looks like new.
Nikon Zoom Touch 800
Film camera, great condition.